Favourite player?
Roger Federer – he has the perfect one-handed backhand and a super reliable serve, and he's a tenacious and tactical player, disciplined and focused. His game is characterised by flawless execution, brilliant shot selection and economical movement around the court. He is the epitome of a true sports gentleman.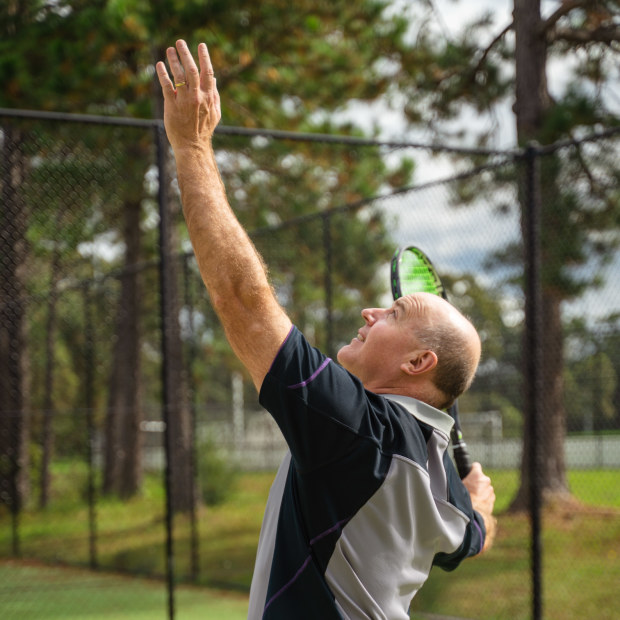 Do you prefer singles or doubles?
I love both. Doubles is great for saving energy: if I can't reach the ball, I just yell to my partner, "That's yours!" And I love singles because the game is entirely up to me. I have to execute a good game plan and stay on top of my game from the first point.
Your best shot?
I have a strong serve – hard, fast and sliding away. This is closely backed up by my top-spin forehand. I'm still trying to improve my reverse triple pike backhand smash.
Favourite gear?
The same (daggy) gear I've had for a good 15 years. It's still comfortable.
Longest rally you've been in?
We had a long rally the other night, probably about 25 shots. The point had everything: net cord, sky-high lobs, smashes both ways, volleys, digging out super low-spinning balls; the works. But we still lost the point.
Most like to play a doubles match with?
Todd Woodbridge – one of the doubles legends. He has such insight into the game – listen to his commentary at the Australian Open! – and would surely point out ways to improve my game.
Most like to play against?
I would love to play against Rafael Nadal. I'm mesmerised by the amount of spin he can generate and his rabbit-like running around the court. I know, of course, that he'd thrash me – but it would be a great experience.
Favourite tournament?
The Australian Open in Melbourne. It has such a terrific festival atmosphere of anticipation, challenge and history in the making. I've watched some epic games there.
lifeandleisure@afr.com